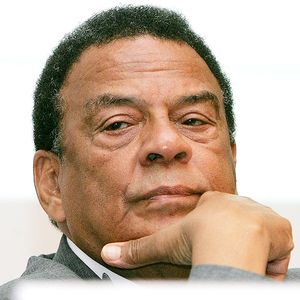 Advice to a godson from former Atlanta Mayor, Georgia Congressman and UN Ambassador Andrew Young: Develop Outrageous Opinions. Defending them will make you strong!
Grampas are thought to be odd at best. "Grampa" is a punch line for a series of younger comic's jokes. Grampas are like Christians in comedy -- good for little else than laughter. Outrageous opinions are somehow expected!
Andrew Young is a hero of mine. He has held responsible positions in government at various levels. Kabir Sehgal, his godson and co-author of his latest book. "Walk in My Shoes",
Conversations between a Civil Rights Legend and his Godson on the Journey Ahead
Andrew Young and Kabir Sehgal; Foreword by Bill Clinton, says he tried hard to be number 2 (often reluctant, always cautious, ever telling truth to power) and has become number 1 (a real leader).

He is three years younger than the Reverend Martin Luther King and a co-founder with King of the civil rights organization that played an important part in the ongoing campaign for Civil Rights. Ambassador Young believes (outrageously to some) that the Southern Christian Leadership Conference was a movement for it's time and
should not be continued as an organization.
In an interview with Diane Rehm this morning Young said when Civil Rights objectives were achieved, "we should have disbanded it!"
Currently the SCLC has two boards fighting with each other for control, leadership from the King family--with a hint of scandal about the appropriate spending of half a million dollars of organization funds. JRH