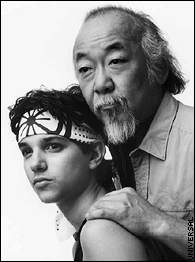 Watching Karate Kid, Pat Morita's performance as Handy Man/Grampa to Daniel calls forth the wisdom of every Great Grampa. He models the best Gramparenting in his example and advice to Daniel LaRusso (Ralph Maccio).
At the climax of Daniel's birthday party, Miyagi gives his young friend the choice of all the cars he has "Waxed on and Waxed Off earlier in the film. As the astonished Daniel finger's the key and Miyagi's dog tags and lets the reality of his new gleaming wheels all sink into his unbelieving mind, Miyagi delivers a nugget of wisdom typical of his string of one liners:
"Remember Drivers License no substitute for eyes, ears and brain!" Then the two shout "Bonsai" to each other as Daniel drives off to a birthday date with his upscale girl friend, Elizabeth Shue.
The film pivots on karate training that, as Miyagi explains is, "Not what seems!" Wash the car. Sand the floor. Paint the fence. Paint the house develops muscles in Daniel that become important in the competition that climaxes the movie.
Even the little exercise to catch a fly with chopsticks. "Any man who catch fly with chopsticks," says Miyagi, "can do anything." When Daniel actually does catch the fly, after two or three tries, Miyagi drops his chopsticks in disgust and mumble, "Beginner luck!"
Rent the movie, or add it to your permanent collection. It comes packaged with three other Karate Kid movies: 1,2 and 3 with Ralph Macchio and a lovely teen age girl in Number 4. JRH